Why Are On Site Performance Socks Better?
On Site Therapy's Performance Socks are 15-20 mmHg of proper gradient compression. Our socks deliver PERFORMANCE all day for your tired feet and legs. The Performance Sock's fiber matrix is comprised of the highest rated absorbency moisture management fiber system combined with our copper fibers that reduces odor and improve hygiene.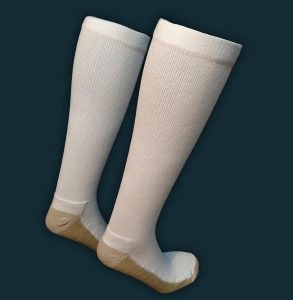 OST PERFORMANCE SOCKS
Our socks are optimum in the industrial work environment with the cushioned cotton copper sole keeps your legs feeling strong and dry all day long. The socks will help to reduce blood and lymphatic fluid from pooling in your legs and feet. These socks have arch support and the 15-20 mmHg proper gradient compression work socks help to keep your legs healthy during your work career. Compression gradient socks have been clinically tested and demonstrate significantly improved therapeutic benefits and are preferred over anti-fatigue mats.
Buy Now!
OST™ Performance Socks Donning & Doffing
Leg Measuring Tips for OST™ Socks
Did You Know?
According to a study in the International Journal of Occupational Safety and Ergonomics, evidence of Chronic Venous Insufficiency (CVI) was found in 59.4% of individuals working in a sitting posture and in 83.4% of those working in a standing posture. That is an enormous number of people exposed to a fairly preventable workplace hazard!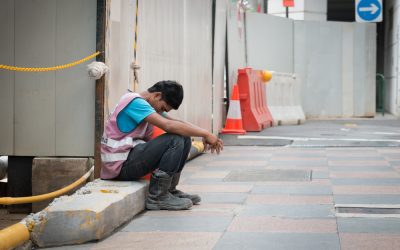 For a lot of us, starting a new job can be both exciting and intimidating.  Excitement for the opportunity to have gainful employment, pay our bills, and provide for our family. Intimidating to understand this is the time period for us to learn and demonstrate the...
read more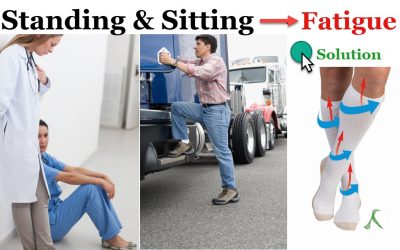 Workplace hazards of Prolonged Standing and Sitting are not a new phenomenon, however, our understanding of the body's physiological responses and ergonomic solutions is expanding. The perception of worker fatigue following a workday requiring prolonged postural...
read more